Atlanta is well known for having a great music scene. Fantastic artists and bands are constantly performing in the city. One of the best music venues in Atlanta is undeniably State Farm Arena. Formerly known as Philips Arena, the venue has received a facelift with some added perks. State Farm Arena has quickly become the go-to spot for large shows in Atlanta. Acts such as Jennifer Lopez, The Who, Elton John, and Celine Dion are set to perform in 2019. Check out our Seating Chart Guide for inside information on State Farm Arena Concerts!
State Farm Arena: Floor Seats
For most shows, the stage is on one side of the arena. Floor seats are split into nine sections. Section 1, 2, and 3 are in the front closest to the stage. Sections 4, 5, and 6 are in the middle of the floor, and Sections 8 and 9 are in the rear. The very best section for this particular layout would be Section 2, as it is front and center.
For some shows, the stage is in the middle, and the Floor is "General Admission." This means all tickets on the Floor are first-come, first-serve and standing room only.
For other shows, the stage is in the center, and sections are spread around for a 360-degree view for the artists. These shows are few and far between.
State Farm Arena: Lower-Level Seats
Lower-Level seats can offer a great view of the stage! At State Farm Arena, Sections 106-121 are available for side stage shows.
Sections 106 and 121 are closest to the stage but sometimes have obstructed views.
Sections 107 and 120 may offer the best views close to the stage.
For a head-on view of the stage, check out the rear sections, 112-115. These are also quite a bit more affordable than the closer stations.
State Farm Arena: Club Seats
Club seats are still available for concerts at State Farm Arena. Check out sections 107-110 and 118-120 for club seating.
Note: Not all seats in these sections provide club access. Check out rows with double letters such as AA-NN for seats with club access.
Club seats offer access to exclusive bars, lounges, and private restrooms! Additionally, the seats are more comfortable!
State Farm Arena: Upper-Level Seats
Upper-Level seats at State farm arena are in the 200 sections.
Sections 207 and 226 are closest to the stage, but can sometimes offer an obstructed view.
Check out sections 208 and 225 for the best close up view in the Upper-Level.
For a head-on view, Sections 213-217 are best.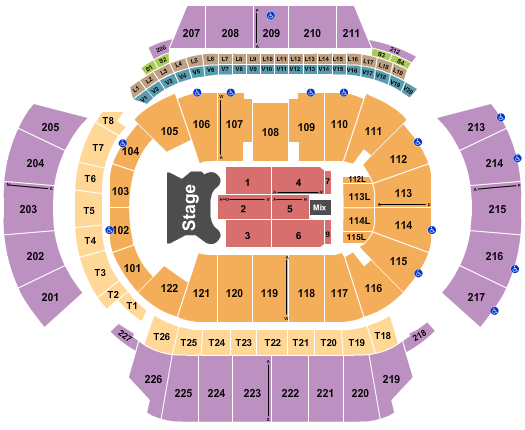 State Farm Arena Concert Tips
Venue Address: 1 State Farm Dr, Atlanta, GA 30303
Most tickets at State Farm Arena are mobile tickets. Be sure to have your mobile device charged, and your tickets ready to scan at the gate.
Parking can be difficult in downtown Atlanta. We recommend the Red Deck or the CNN Deck for State Farm Arena Concerts
MARTA has a stop just outside the venue. This can be a great way to travel for busy events where parking can be scarce. Additionally, Uber and LYFT do service the venue.
Arrive early! Be sure to be on time, so as not to miss a minute of the exciting show!
State Farm Arena Concert Tickets from Front Row Seats
At Front Row Seats, we pride ourselves on assisting fans to find the best concert tickets available at State Farm Arena. Whether Floor seats, Club Seats, or "get in the door" tickets are needed, Front Row Seats has you covered! Check out State Farm Arena tickets at the best prices, or contact a friendly customer service representative for assistance- (404) 633-2726.