Philips Arena is home to the Atlanta Hawks professional basketball team. It also hosts a variety of different events, namely big time concerts and performers, and the Atlanta Dream, a professional women's basketball team.
The Arena opened in 1999 to replace the Omni Colisseum. This arena seats over 18,000 for a basketball game, includes 92 luxury suites, 9 party suites, and 1,866 club seats.
Philips Arena  was the world's first LEED certified NBA/NHL arena. LEED, an international green certification system,  stands for Leadership in Energy and Environmental Design.
Check out some of the great things Philips Arena has to offer!
Philips Arena Highlights
Philips Arena boasts many fun activities, restaurants and bars inside the venue:
RED- featuring the Ciroc Bar: a sit down dining atmosphere open before and after events. Dining at RED gives fans an excellent view of the action on the court, as well as the opportunity to see chefs at work in the centrally located kitchen.
Hawk Walk- Philips Arena's indoor street, connecting the venue with MARTA, CNN Center, and Georgia World Congress Center. Hawk Walk includes a food court and retail stores.
Georgia's Own Credit Union Club- Serves suite and club seat holders. Includes a view of the court, TVs, a full service bar and gourmet cuisine from Buckhead Life and Levy Group mini restaurants.
Philips Experience- A new 10,000 square foot showcase including five hands-on activities. Philip's Experience even includes "Ready, Set, Shoot" which gives visitors an opportunity to test their dunk skills on a miniature basketball court, with a live stream throughout the exhibit!
Best Food Options at Philips Arena
Where to Grab a Drink Inside and Outside Philips Arena
NBA Seating Options at Philips Arena
There are several seating options available for Atlanta Hawks games, with a variety of different benefits to each seat:
Lowers:
Club Seats: Sections 101-107
Lower Bowl Baseline:  Sections: 108-111 and 119-122
Lower Bowl Center: Sections: 114-116
Lower Bowl Corner: Sections: 112-113, 117-118
Middles:
Middle Center: Sections: 210-213
Middle Baseline: Sections: 201-207, 216-222
Middle Corner: Sections: 208-209 and 214-215
Uppers:
Upper Bowl Baseline: Sections: 301-306, 315-320
Upper Bowl Center: Sections: 307-314
Quick Guide to Atlanta Hawks Tickets
Advanced Fan Guide for Atlanta Hawks Seats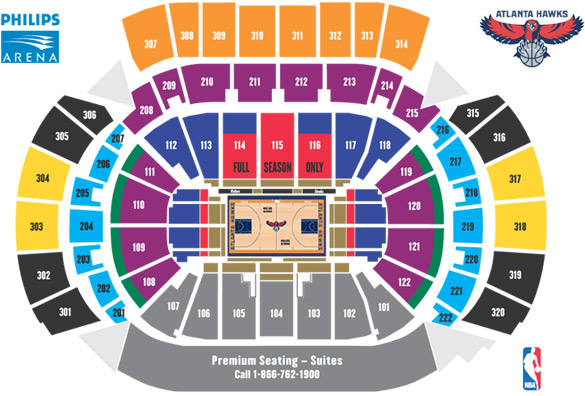 Concert Seating Chart Guide
The concert seating chart may change depending on the performer. Some performers have the entire arena available for seating, to maximize the amount of fans who can attend the concert. Some performers have parts of the arena blocked off to create a more intimate atmosphere, and some  shows have general admission and "pit" sections as well. General concert sections for Philips Arena are as follows:
Floor: Sections: 1-9
Lower 100s: Sections: 102-117 (Club: 102-107)
Lower 200s: 201-214
Upper: Sections: 301-314, 407-414
Entering and Exiting the Arena
There are seven entrances to Philips Arena:
Techwood Entrance: on Centennial Olympic Park Drive. (This is where the box office is located)
Hawk Walk Entrance: at the CNN Centrer Food Court.
Georgia's Own Credit Union Club Entrance: on Philips Drive. Club seat holders get VIP entrance here.
Taco Mac
Club Bridge Walkway: located on Centennial Olympic Park Drive. If you park in the CNN Parking Deck you can enter here.
International Blvd. Entrance
MARTA Entrance
Additionally, fans may wonder about getting around inside the arena. There are elevators and escalators for your convenience! There are four elevators in these locations:
Georgia's Own Credit Union Club
The north end of the main concourse, near RED
The Techwood Entrance
Portal 7
And two escalators:
Across from Portal 9 (Near Guest Services)
At the Techwood Entrance
Philips Arena is an amazing venue, whether you are watching basketball or attending a great concert. If you have any questions or concerns, feel free to contact our friendly customer service representatives at Front Row Seats!